Cross Media Marketing with Interactive Publications
Cross-media advertising is just one of many ways that Ram has accommodated the needs of our clients. Touch base with your salesperson to inquire how we can make your printed piece into an online, interactive element that will engage your readers and allow increased revenue on your advertising sales. 
Call or email to find out how to get your latest publication online!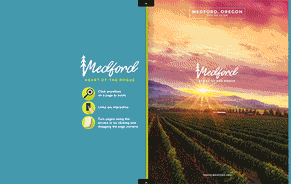 This fabulous piece is amazing to view, with links throughout the publication. Click to view it – you won't be disappointed! 
Our best digital publication yet! Videos and interactive links throughout the publication will make you want to Experience Roseburg! 
The 2022 Fall Edition of the National Fitness Trade Journal is now online and available for viewing.