Graphic Design
Ram Offset's design team has many years of experience and the knowledge to make sure your piece conveys the right message and represents your company correctly. From business cards to business directories, we can design the piece your company desires.
Not all designers are created equal. Our team of graphic designers understand the printing process and know how to prepare files for press.
It is not uncommon for a web designer to be requested to create a file for printing. Unfortunately, the differences between online design and print design are dramatic. While a web designer may have an extensive library of images and color pallets, those same elements may not convert to print correctly, causing undesired results. Image resolution and color conversion from RGB to CMYK are parameters that a web designer may not be familiar with.  When images are portrayed on a screen, it is best to utilize RGB color profile. When preparing files for printing, CMYK color profiles are necessary.
Ask your salesperson to review your files during the early design stage to prevent any unexpected charges once the elements have been submitted to prepress. Our staff will gladly review your files and provide you with the necessary feedback you will need to assure your printed piece goes out the door looking fabulous!
Be sure to review our Tools page to glean a few helpful tidbits. And don't forget that we offer Turnkey Publications for your business as well.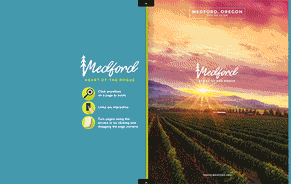 Interactive Publications
Review our Interactive Publications page to see the latest pieces we've produced.
Ask your salesperson for information on creating an online piece of your next print project for you to share online and with potential clients.